(COCA-COLA, Chalan Laulau)—The last-minute decision of Melanie Rabago to purchase a 12-can pack of Coca-Cola paid off when she won the top prize at the first drawing of the Coca-Cola holiday promotion, "Open a Season of Happiness." Rabago, 44, is a resident of Fina Sisu. She is married to Mark Rabago, associate editor of the Saipan Tribune.
"That was my first win in any lottery that I've joined," Rabago said. "Actually, it was my oldest daughter, Maxine, who wanted to join. She was very happy when I won that she posted the prize on Facebook. She's the one who uses the netbook most of the time." Maxine, 10, is a 5th grade student at San Vicente Elementary School.
Other winners include John White and Rita Omar who each won a $50 Regal Cinemas theater card that can be used to purchase movie tickets and/or food and beverage. One $52 gas voucher each went to Marino Torreros and UnJoo Lee.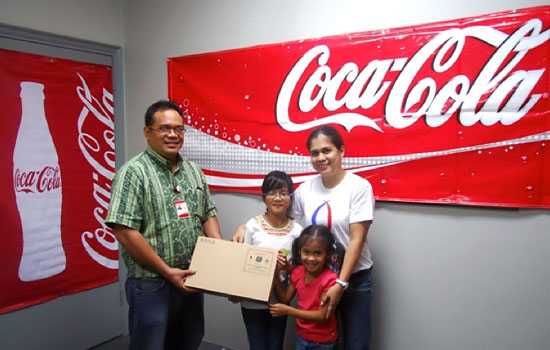 LAST-MINUTE PURCHASE NETS A NETBOOK. Melanie Rabago's last-minute decision to purchase a Coca-Cola 12 pack, won her an Acer Notebook at the first drawing of Coca-Cola's "Open a Season of Happiness" holiday promotion. Rusty M. Loyola, left, operations manager, Coca-Cola Beverage Co. (Micronesia), Inc. presents the netbook to Rabago, right, and to her two daughters, Maxine, 10 and Kyla, 6 at the awards ceremony at the Coca-Cola offices in Chalan Laulau.