(COCA-COLA BEVERAGE CO. (MICRONESIA), INC. June 5, 2013)—Coca-Cola Beverage Co. Micronesia), Inc./Glimpses of Saipan has captured the Team Spirit Award for the third consecutive year at the 2013 Saipan Chamber of Commerce Corporate Challenge Softball Tournament held May 26 at the Capital Hill Ball Field.
Out of 13 teams that joined the corporate challenge, Coca-Cola Reds was adjudged to have best exemplified team sportsmanship, team cheering, team attire, and team corporate responsibility consistent with the Saipan Chamber of Commerce criteria.
True to the spirit that enabled the team to win the award since 2011, Coca-Cola Reds this year showcased corporate colors in uniform attire, not only for the players but also for supporters and cheering squad. The Coca-Cola Tent, festooned with ornaments made out of recycled soda cans and other repurposed materials, showed corporate responsibility with a green approach to decorating.
At the bleachers, the entire team supported the players by singing an adaptation of the catchy Coca-Cola jingle, "Always Coca-Cola" to the beat of drums made of repurposed ice cream tubs, and soda cans and straws transformed into maracas.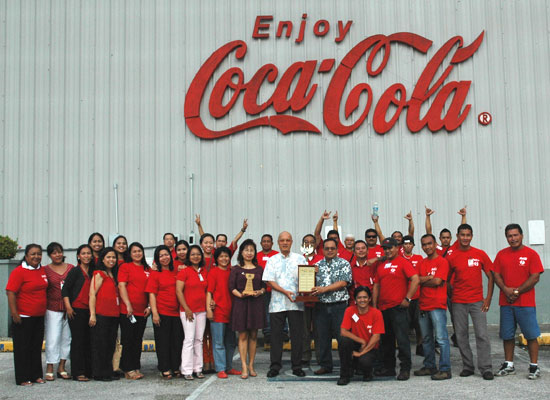 COCA-COLA REDS THREE-PEATS TEAM SPIRIT AWARD. The combined Coca-Cola/Glimpses team has captured for the third consecutive year the Team Spirit Award at the 2013 Saipan Chamber of Commerce Corporate Challenge Softball Tournament. Group President Johnnie V. Fong, seventh right, and Coca-Cola Operations Manager Rusty M. Loyola, and Group Vice President Stella T. Fong, ninth left, hold the perpetual trophy and the 2013 trophy, respectively. They are joined by the group management and staff at the Coca-Cola offices in Chalan Laulau.