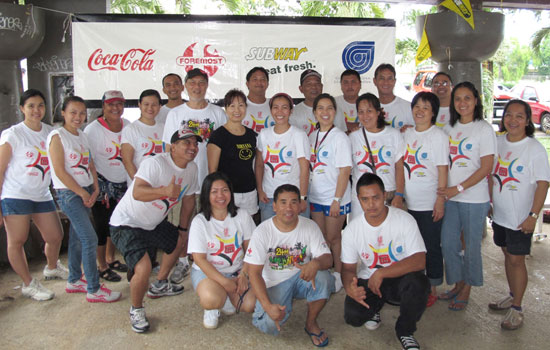 (COCA-COLA BEVERAGE CO. (MICRONESIA), INC. April 13, 2013)—Coca-Cola, Foremost, Subway Restaurants, Glimpses Publications and Glimpses Advertising, and Foremost Scoops are the premier sponsors of the most successful American Red Cross NMI Chapter Walkathon in 27 years.
The 27th American Red Cross Walkathon held April 13 drew a record 2,562 registered walkers from Saipan, Tinian and Rota. The Red Cross signature fundraiser collected $55,312 in individual donations and $12,500 in corporate contributions, for a total of $67,812.
The Group donated over $10,000 in cash and various products including Subway Giant Subs, Coca-Cola diet and zero products, Powerade, Foremost Crystal Clear Bottled Water, Foremost Blend Coffee, Foremost Non-fat Milk, Scoops coupons, and print ad in BRM. More than 80 percent of Group employees volunteered in various capacities.
Certificates of appreciation and walkathon T-shirts from Red Cross were presented to Group volunteers during the Fabmazing Race held May 11 at Kilili Beach. The Fabmazing Race is an annual beach park barbecue hosted by the Group in appreciation of its employees. The gathering aims to foster camaraderie among employees and their immediate families.