(COCA-COLA BEVERAGE CO. (MICRONESIA), INC. June 7, 2012)—Coca-Cola's spring-summer promotion, "Spin it to win it" rounded up a dozen winners of exciting prizes during the first redemption event held at Joeten Shopping Center, Susupe on May 18.
Coca-Cola lovers all over Saipan brought at least 25 Coca-Cola bottled product labels for a chance to spin for prizes on the roulette and submitted 10 labels to win instant giveaways.

Daniel Wasserman, exchanged 75 labels and earned three spins on the wheel and as many prizes, including the grand prize, an Xbox Kinect; gas certificates, and a certificate from Foremost Scoops.
Lucky on the wheel, Roger Valencia brought home a $100 Joeten Shopping Certificate while Joseph Mario Socorro's spin landed him a $100 water park and brunch certificate.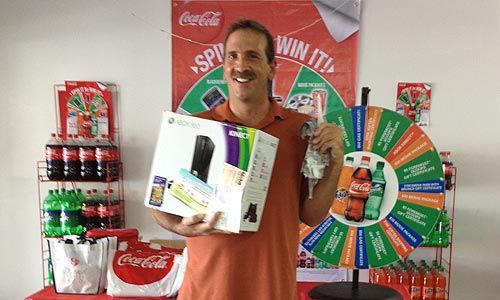 XBOX KINECT WINNER. Daniel Wasserman, brings 75 Coca-Cola labels and ends up the biggest winner at the first redemption event of Coca-Cola's "Spin it to win it" promo. He takes home an Xbox Kinect, gas certificates, and a Foremost Scoops gift certificate.